The UCLM professor met with the Lucentia team to establish the lines of action for the coming months within the Balladeer project
On the 16th of November, we had the visit of Elena María Navarro Martínez from Lucentia Research Group. We received Navarro to agree on different points to be carried out within the research being developed in the #Balladeer project.
Elena Navarro is Professor of Computer Science at the University of Castilla-La Mancha (UCLM). In addition, she is currently an active member of the LOUISE Research Group at the UCLM. Her current research interests are requirements engineering, software architecture, model-driven development and human-computer interaction. Specifically, he has more than 20 years of experience as a teacher in software engineering, with special focus on the application of .NET technologies for the development of cloud applications.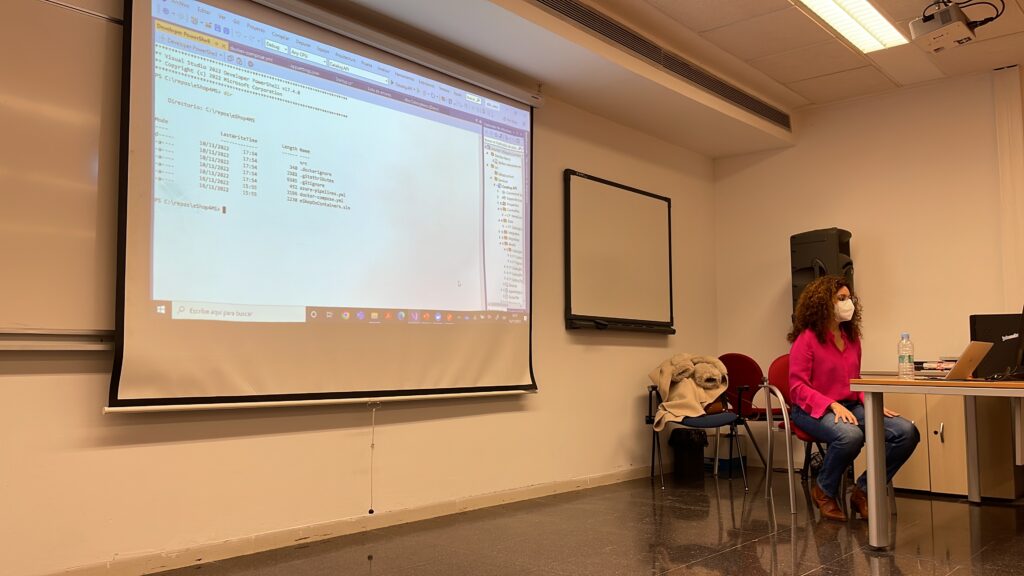 Navarro is currently collaborating with Lucentia Research Group as a researcher on the #Balladeer project. It is for this reason that the researcher travelled to hold a meeting with the team located at the University of Alicante, in which the next lines of action of the project were set with regard to its expansion to #virtualreality (VR) and #augmentedreality (AR) environments. In fact, Navarro is involved in the development of #video games in #VR and #AR and, during the work meetings, the second phase of one of the #video games being developed was designed.
The main objective of the #Balladeer project is the diagnosis and treatment of #ADHD. In addition, this project aims to lay the foundations of research for future intervention in intelligent, person-centred #extendedreality environments. In order to meet this general objective, Lucentia analyses the #brainactivity of the users and their evolution through a platform that provides a subsequent #bigdata and #artificialintelligence analysis, thanks to the selected tools. In addition, the three levels of analysis of #Balladeer present novel technological aspects. First, the level of attention is measured using #eyetracking, #encephalography or #electrodermalconductivity measurement techniques. Next, the #bigdata is processed to facilitate the diagnosis of #ADHD for the professionals involved. And finally, #help systems and #machinelearning algorithms are provided to improve the decision-making process according to the evolution of patients.
Regarding the #VR and #RA environments, Lucentia has three models of glasses that are used to facilitate the process of measuring the level of care. On the one hand, we have the #Oculus Meta Quest 2 and the #HTC VIVE Pro Eye glasses as #virtualreality tools. On the other hand, we have the Microsoft #HoloLens glasses for use in the #augmentedreality environment.
The Balladeer project (PROMETEO/2021/088) is subsidised, within the Prometeo programme, by the Department of Innovation, Universities, Science and Digital Society of the Generalitat Valenciana.