Title: Blockchain and DeFi: a revolution on the move
Speaker: Dr. Miguel Ángel Teruel Martínez – Professor of the Department of Computer Languages and Systems and Director of the "Official Master's Degree in Web Applications and Services Development" (University of Alicante)
Date: 11:00 a.m. on 9 March 2022
Place: ESII Assembly Hall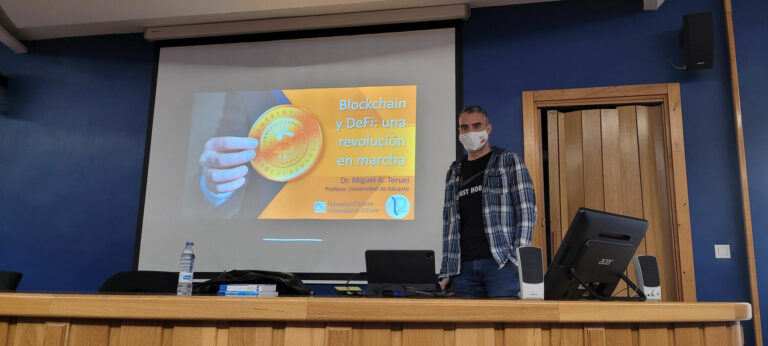 About the seminar:
In 2009, the publication of the article "A Peer-to-Peer Electronic Cash System" by someone who remains unknown today, under the pseudonym Satotshi Nakamoto, shook the foundations of global banking. Bitcoin was born (and with it, Blockchain), the first electronic currency that did not depend on a central bank, but on the users of the currency themselves. Since that day, the Blockchain world has evolved into a global decentralised ecosystem with a market capitalisation of $2.04T (as of February 2022).
This talk will present the theoretical foundations that make Blockchain a cutting-edge technology capable of revolutionising the world of finance and information management. Then, use cases of real applications that work on Blockchain will be shown, from those that manage information in a reliable, traceable and trustworthy way to others related to the DeFi world (decentralised finance).
About the speaker:
Dr. Miguel Ángel Teruel is Professor in the Dept. of Computer Languages and Systems and Director of the "Official Master's Degree in Web Services and Applications Development" at the University of Alicante. Before becoming a professor, he was a senior IT consultant in several companies, being also CEO of MTMinfo. He enjoyed an FPU grant from the Ministry of Education, Culture and Sport from 2012 to 2016 for the completion of his doctoral thesis. In this regard, it should be noted that his doctoral thesis, defended at the University of Castilla-La Mancha, was awarded the Extraordinary Doctoral Prize of the University of Castilla – La Mancha and the Best National Doctoral Thesis by the Spanish Society of Software Engineering and Software Development Technologies (SISTEDES). After finishing his PhD and before joining the University of Alicante as a professor, he was part of the spin-off Lucentia Lab where he has worked on several projects applying Blockchain technology to different domains. During his research stage, he has published articles in relevant international conferences and JCR indexed journals, some of them related to the use of Blockchain. His current research interests are Post-WIMP environments, Gamification and Blockchain applied within the eHealth domain.